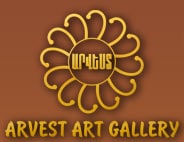 Every Monday Arvest Art Gallery master-class takes place.
75/78 Bogenbay Batira Street
(corner Kaldayakov)
Almaty, Kazakhstan

Phone: + 7 727 291 47 97
Mobile: + 7 701 799 94 09

Artists Sarkis Sanosyan
Born on 8 February 1922 in the village of Karmir (Armenia). From 1938 to 19941 received education at Yerevan Art College. Since 1954 has been living and working in Karaganda. He was one of the organizers of the Karaganda branch of the Artists Union. Member of the Artists Union of Kazakhstan from 1961.
The creative work of Sarkis Sanosyan formed within the framework and under the influence of the Armenian tradition especially when it comes to the influence of contrasting colours and dominance of landscapes. This could be seen in Sarkis' early works taking the form of bright decorative compositions, where bold and bright colours expressed the young artist's admiration for nature in the south - azure skies and golden slopes of the mountains, gifts of the land that people collected. Having paid his tribute to officially ordered themes in many industrial landscapes (in which, nevertheless he discovered his brilliant skills), the artist created wonderful series of those places where he traveled to, in particular, Central Asia.
Monochromic and dull landscapes precisely and laconically transmit the charm of Central Asian narrow streets, tousled crowns of mulberries, wattle and daub houses with flat roofs, simple way of life, multicoloured clothes and daily scenes - everything in the picture that depicts the way of life of a different people.
Of course, just as many other artists who have been to Uzbekistan, Sarkis Sanosyan could not have simply not painted Central Asian architecture, astonishing strictness of the many constructive techniques that give rise to diverse and splendour of the ensemble, with colourful enamel azure decorative tiles. During his entire life the artist has mostly been attracted to landscape genre.
Sarkis Sanosyan has equally freely mastered lyrical intonations, characteristic of his landscape pictures and generous palettes in still life art, colour gamma, which as clots of beauty of nature in all its numerous diversity. Such work, unfortunately were not that many during the latter part of the years, but it is particularly these artworks that link the creative works of the master with his first steps in art.