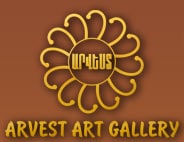 Every Monday Arvest Art Gallery master-class takes place.
75/78 Bogenbay Batira Street
(corner Kaldayakov)
Almaty, Kazakhstan

Phone: + 7 727 291 47 97
Mobile: + 7 701 799 94 09

Elena Ralina was born in 1962 in Shimkent. In 1981 she graduated from Shimkent Art College by the name of A. Kasteev, and in 1990 graduated from Almaty Theatrical-artistic Institute by the name of T. Zhurgenov. She is a member of Kazakh Artists' Association since 1990. She has participated in more than 50 exhibitions, international symposiums in Kazakhstan and abroad. She lives and works in Astana.
Being a student of the college Elena determined ideal of her art and a fine teacher M. Oborina helped her to make this choice. This very teacher taught Elena freely writing, to be independent, love towards experiments. She was lucky to have such teachers at the Institute. M. Kenbaev, E. Murgenov, E. Dosmagambetov are striking persons, and good painters and they could find in their follower a special feature of her genius that is called talent. In the Institute she acquired the ability to see a nature like a painter does, and the main thing that she acquired is passion to work, obtaining good results which most of people called inspiration. Spectrum of E. Ralina's interests is extensive: searching for batik, goblin, graphic and beautiful canvases. However, she mainly devoted last few years to painting. Her artworks are recognized at far distance and in any exhibition. They attract by their beautiful, laconic composition, compound palette, exciting, intensive current and nostalgia feeling of expectation, expectation of discovery, peace, and happiness.... The force of color impulses dictatorially attracts someone's sight, impacts on sub consciousness, drawing away from vain and fierce world.
Elena states that she is led by a "hand". This "Hand" is a talent, Cod's gift, although she used to work without vacations, holidays, weekends. And she is always full of ideas, dreams and plans.