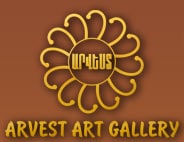 Every Monday Arvest Art Gallery master-class takes place.
75/78 Bogenbay Batira Street
(corner Kaldayakov)
Almaty, Kazakhstan

Phone: + 7 727 291 47 97
Mobile: + 7 701 799 94 09

Mikhail Pak: tracing world of Eurasia in Search of Inner Self
It is common knowledge that real, genuine artists have very much in common with their creative works in sence of artistic manner and psychophysics. When I got aquainted with Mikhail Pak and his paintings I was glad to see that this fundamental truth was still in power.
My curiosity increased when I learned that he was also a writer, a poet and a theatre dramatist. Our relations spontaniously became warm and friendly. I enthusiastically read all his published novels and stories. We spoke a lot about art and life sitting together for hours and sipping wine. In the result I got a certain understanding of his multi-dimensional personality.
The more I got inside Mikhail Pak's artistic world the more I realized that all the facets of his talent were interconnected and created one whole and inseparable humanitarian space, where one was resulting from another. Painting gives subject for writing proze. Proze stimulates painting.
During his life Mikhail lived in many places. Sometimes it was due to some circumstances. But more often it was due to his irresistable passion for unplanned travel. "In my youth I travelled a lot. I visited every corner of the former Soviet Union, except Sakhalin Island. Now I am permanently settled in Moscow, but my heart aches every time when I see a train ready to start". Mikhail Pak is a true citizen of Eurasia. It is obviously reflected in his peculiar literary and artistic activities.
For two years he lived in South Korea, which is his historical motherland. His paintings of this period are an evidence of the artist's vibrant meeting with his roots. These paintings shed the fluids of a soul in search of inner self.
If we compare Mikhail's paintings of different periods we immediately see that ethnic mentality, geography, landscapes and other specific features of different countries inevitably influence composition, and that the temperature of the painted surface greatly varies. But in general Mikhail remains faithful to the ever living traditions of French impressionism. Being various in details he never betrays his mainstream.
Many of Mikhail paintings have the effect of 'sinestesia' — when one art helps to understand the meaning of another art. For example, it is the music which sometimes sounds in our concsiousness when we stand for a long time in front of a painting. I asked Mikhail why the effect of 'sinestesia' appeared. He answered with a shy smile: "My Father used to play a Korean bamboo flute sitting alone in the yeard in the evening. Its melody was very private and sad. I think that the lyricism of my paintings and proze arouse from the melody of Father's flute".
I believe that as a painter Mikhail Pak has still many things to do in future. I hope that his travels in Eurasian art space will bring him more joy than sorrow.
Andrew Lednev, Historian of Art, Curator of the exhibition project