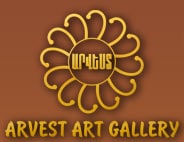 Every Monday Arvest Art Gallery master-class takes place.
75/78 Bogenbay Batira Street
(corner Kaldayakov)
Almaty, Kazakhstan

Phone: + 7 727 291 47 97
Mobile: + 7 701 799 94 09

Artists Leonid Leontiev
Born in St. Petersburg into the family of a metal-worker. Interest in drawing, encouraged by parents, comes from childhood. In those years he familiarised himself with museums, art books, artists, had the first lessons in the workshop of a painter-professor. Later on he attended the fine arts circle, organised at the factory, where he worked. In 1930-1932, he studied at the Workers' Faculty ('Rabfak') attached to the Arts Academy, in 1932-1939 at the I.Ye. Repin Institute, the Arts Academy of the USSR. Was a student of A.Ye. Karev, Ye.Ye. Lansere. He was greatly impressed by exhibitions of the avant-garde leaders V. Tatlin, M. Shagal, P. Filonov, whose experience told on the creative activity of L.P. Leontiev in the 1960s-70s. In 1939, he was assigned to work in Kazakhstan in the capacity of head of the Fine Arts Department under the Board for Arts Affairs. He combined this work with creative and teaching activity (compiled syllabi, guides in methods, taught special subjects: drawing, composition, painting). In 1939 to 1959, was a teacher at the Arts School of Almaty. Member of the Artists' Union of RK from 1940.
Honoured Worker of Arts of Kazakhstan.
Like many artists, in the years of the socialist realism pressing, L.P. Leontiev painted more pictures "for himself", but not on order. Brilliant are his series of Crimean landscapes in "a la prima" technique. Expressive are ascetically simple objects in still-lives of different years. In portraits, he turns, as a rule, to psychologically complicated, equivocal personalities, like Sergei Kalmykov.
However, it was just in works concerned with plain subject matters and commonplace plots that the painter created compositions which charmed the viewer with a peculiar scenic manner. When gravely sick, he painted what he saw out of the window: blossoming bushes, Balconies, Tree Twigs (names of series). Lambent as regards boldness of diagonal composition, rhythm and sonorous laconicism of colour solution, the still-life Apples (1983), one of the last and best works of the master, was painted in the best traditions of the 20th century avant-garde, with whose leaders he came into contact in St. Petersburg.