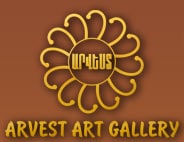 Every Monday Arvest Art Gallery master-class takes place.
75/78 Bogenbay Batira Street
(corner Kaldayakov)
Almaty, Kazakhstan

Phone: + 7 727 291 47 97
Mobile: + 7 701 799 94 09

Artists Balhiya Khusainova (GaBo)
GÀliya and BOta Kussainovs (GaBo)
GÀliya and BOta Kussainovs (GaBo) are sisters twins. They were born on October 29, 1969 in Almaty. In 1994 they graduated from Saint Petersburg's Art College for deaf people and continued their studies (1994-1999) in Kazakh National Academy of Arts in the faculty of decorative and applied arts.
Since 2003 they are the members Artists' Union of Kazakhstan. GaBo are participants of national and international exhibitions, laureates and diploma-winners of international festivals and contests. The works of GaBo are in the State Museums of Kasteev, private collections of USA, Russia, France, Germany, Italy, Canada, Egypt, Vatican and in the private collection of Queen of Spain Sofia and Princess of Jordan Nour.
Main exhibitions:
2008 - The World Deaf Art Association Exhibition. The administration of Tokio Gallery (Public display corner)
2008 - Solo Exhibition Land's attraction, Art Center Alma-Ata, Kazakhstan 2007 - International Art Festival of deaf artists SINOSZ ART, Budapest, Hungary
2007 - International symposium on printing graphics TANBA, Kazakh State museum, Almaty, Kazakhstan
2007 - Solo exhibition Dreaming and living, Arvest Gallery, Almaty, Kazakhstan
2006 - III International Biennale of modern art for deaf artists Leonardo da Vinci Arte, Rome, Italy
2006 - International Art Exhibition West-East Graphics, Bishkek, Kyrgyzstan
2006 - International Festival of deaf artists. Diploma and Sympathy prize, Guvio, Italy
2006 - May 1-20, International Symposium on printing graphics, Valsee, Austria
2006 - Solo exhibition Feelings and Emotions, Modern Art Museum, Astana, Kazakhstan.
2005 - Solo exhibition Different World Center Exhibition hall, Almaty, Kazakhstan
2004 - Laureates of the International Art Contest Kalpak, Bishkek, Kyrgyzstan
2004 - Solo exhibition The Game of Feelings, presentation of the artist's first catalogue, art gallery Tengri-Umai, Almaty, Kazakhstan
2003 - Solo exhibition Nomad life, Madrid, Spain
2003 - Participated in fair of art and artisans Kermes, organized by Association of Woman Diplomatic Club headed by Queen of Spain Sofia, Madrid, Spain
2003 - Solo exhibition Traveling around East, Almaty, Kazakhstan
2002 - Personal exhibition Aroma of the East, Astana, Kazakhstan
2002 - Laureateas of the International Art Festival Master Class, Almaty, Kazakhstan
2001 - Personal exhibition Together, Almaty, Kazakhstan
2001 - Laureates of the International Art Festival Master Class, Saint Petersburg, Russia
2001 - Solo exhibition Thirst, Almaty, Kazakhstan
2002 - International Art Exhibition of Deaf Artists, Rome, Vatican, Italy
1999 - Scholarships of the President of the Republic of Kazakhstan in the field of Art
1998 - World woman exhibition, Modern Art Museum White Columns, New York, USA
1993 - International exhibition of Deaf Artists, Rochester, USA