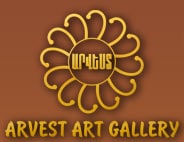 Every Monday Arvest Art Gallery master-class takes place.
75/78 Bogenbay Batira Street
(corner Kaldayakov)
Almaty, Kazakhstan

Phone: + 7 727 291 47 97
Mobile: + 7 701 799 94 09

Artists Anatoly Dashko
Born in 1956 in Leninogorsk, East Kazakhstan Oblast. In 1971 to 1975, was a student of the Architectural Department at the Alma-Ata Construction Engineering Technical School. In 1978 to 1982, attended the Graphic Arts Faculty at the Abai Teacher Training Institute. From 1975 until 1980, was a teacher at the Alma-Ata Arts School for Children. As from 1992, he is a teacher of the Abai Kazakh State Pedagogical University, Almaty. Participant in art exhibitions from 1983. Lives and works in Almaty.
Anatoly Dashko paints landscapes. Motives of his canvases are simple: a mountain gorge with a meandering river, a wet road in the summer or autumnal forest, snow-covered land. Sometimes the painter will portray a small separate bush with prickle-shaped beads and green mantises pretending to be leaflets (Blattoidea). But more often the artist is engaged in trapping the general melody of natural forms. His eyesight is made so that he sees not simply verdure of the forest or the glade, but every stem and leaf, all boughs and twigs, which form the play of lines interlacing into what may be called grass or crown. The painter sees at once the whole and every part of this whole. He can see forest behind trees, and every tree in the forest. Grass for him breaks up into thousands of separately seen blades, which miraculously form a soft and succulent carpet of the glade. Each fragment of the world is seen with double sight: naked eye and telescope, which brings distance near and settles it with multitude of details. Such are "A Forest Path" and "Forest in Autumn". Now and then the painter happens to see the philosophy of life, felt in the mirror-like surface of the river, in brittle trees with spider-line branches on the snow-covered bank, in frosty purity of Russian North and touchingly fine proportions of the church visible in mild expanse ("River of Time"). Another time his heart is conquered by the width and length of land expanses, energy of natural forces. The picture "Bukhtarma. Blue Creek" depicts the bird's view panorama of the silvery and distantly shining creek with a solitary boat (a sail appearing white...) on its expanse. And a stack of thick clouds above the mountain ridge near the horizon. It takes one's breath away.