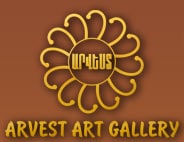 Every Monday Arvest Art Gallery master-class takes place.
75/78 Bogenbay Batira Street
(corner Kaldayakov)
Almaty, Kazakhstan

Phone: + 7 727 291 47 97
Mobile: + 7 701 799 94 09

Artists Alexander Rorokin
Alexander Rorokin was born in 1947 in Almaty. In 1969 he graduated from the art and graphics faculty of Abai Kazakh Pedagogical Institute, Almaty. Now he lives and works in Almaty. Since 1984 he has been a member of Artists Union of the Republic of Kazakhstan. He is a production designer of over 20 feature films of Sh. Aimanov Cinema Studio.
The Laureate of the State Prize of the Republic of Kazakhstan (1992).
All his lifetime Alexander Rorokin has seriously learned mutual understanding with painting. He has been constantly working over the work of creative self-perfection what he stared at school, and is still continuing. In his youth due to his dedication to the art he gained the respect of experienced masters. In particular, Pavel Zaitsman, who was one of the famous artists of Kazakhstan and the pupil of Pavel Philonov, devoted much attention to Rorokin.
At the same time, contemplative character and deep internal life protects Rorokin from accidental impacts. The main quality of his works is the reflection of the world in its entire harmonious integrity. He preserves the balance between material and spiritual worlds. The subjects in the artist's pictures are free from rough matter and insularity and almost become transparent bearers of light. Rorokin possesses a developed sense of color. He works easily with the whole palette, freely developing multicolored structures at the level of delicate harmonies.
"When an artist may tell himself: "Today I am harmonious with the world of kindness, today I am full of hopes for the future and for the better existence: today I feel good and I am ready to share it with everybody!" - only after this he has the right to come to his canvas and take his brush" - from the artist's credo.
V. Buchinskaya,
Art Critic, Merited Worker of RK