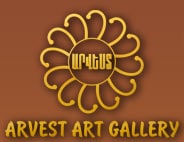 Every Monday Arvest Art Gallery master-class takes place.
75/78 Bogenbay Batira Street
(corner Kaldayakov)
Almaty, Kazakhstan

Phone: + 7 727 291 47 97
Mobile: + 7 701 799 94 09

Artists Beksultan Zhankisiev
Zhankissiyev Bexultan Kulmakhanbetovich
Was born in the 1st of November 1960, Jambul oblast, Merkenski region, Kazakhstan.
Education:
1981 - 1985: Graduated from the Art college after Kasteev, the department of theatre properties.
1985 – 1990: Graduated the Zhurgenov State Institute of Theatre and Art in Almaty.
Specialty: monumental decorative art.
Work:
1990 – 1993: director of monumental decorative art circle in professional mechanic college 16.
2003 – 2004: sculpture teacher in Almaty Art college after O. Tansikbaeva.
2005 -2006: participant of the best ice sculpture composition, done in the competition "Astana, the centre of Eurasia", for what was awarded with a diploma.
2006 – the performer of sculptural composition of the monument "The Beatles": author Edward Kazaryan.
2007: the executor of sculptural composition of monument devoted to participants of "Zheltoksan": author Ainekov.