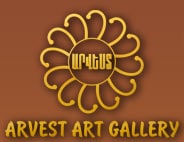 Every Monday Arvest Art Gallery master-class takes place.
75/78 Bogenbay Batira Street
(corner Kaldayakov)
Almaty, Kazakhstan

Phone: + 7 727 291 47 97
Mobile: + 7 701 799 94 09

Born in Kazalinsk District, Kzyl-Orda Oblast. In 1955, graduated from the All-Union State Institute of Cinematography. Was student of F.S. Bogorodsky and Yu.l. Pimenov. From 1955, worked in Alma-Ata. Member of the Artists' Union of RK from 1958. Member of the Cinematographers' Union of the USSR from 1959. Participant in art exhibitions from 1949.
People's Artist of Kazakhstan. Holder of the Order of Parasat.
Sakhi Romanov started his creative career in KazakhFilm studios. As art director, he took part in the making of films: Footprints Disappear Behind the Horizon, producer M. Begalin (1962), Song Wings, producer A. Mambetov (1965), A Thousand Versts-Long Road, producer A. Karpov (1967), At the Foothills of Naizatas, producer Kh. Abuseitov. Aldar-Kose (Beardless Trickster) by producer Sh. Aimanov (1963) was one of his best films. In a lively and vigorous manner the artist made a lot of sketches and drawings of personages and their costumes, creating surprisingly bright comic and dramatic images marked with subtle psychological qualities.
In his creative activity S. Romanov devoted much time to book graphics. Knowledge of Kazakh epos, very rich imagination and inventiveness helped him to create interesting and bright graphic series - Forty Cock-and-Bull Stories, Aldar-Kose, Life and Creativity of Kurmangazy, illustrations to the collection of novelettes and short stories Karash-Karash by M. Auezov. Eventually, painting, which determined the peculiarity of his creative vision, became the chief sphere of cognition, the form of embodiment of thought and feelings.
Sakhi Romanov was the painter who valued the first impression gathered from nature most of all. Always in motion, nature excites the master more than anything else. It was work on sketches that made the artist mature and strong as a painter. The main goal of Sahi Romanov was to experience the emotional beauty always available in the surrounding world and to find the ways of impressing it in his canvases.
Working at portraits, the painter seeks the active source in the nature of every human being. His portraits are first of all the expression of man's aspiration for action, embodiment of inward perseverance, strength of mind. Even in the outwardly compositionally peaceful portrayals of man he marks out latent tenseness of feelings.
Sakhi Romanov's pictorial canvases are aspiration for terseness, dynamics, and vividness of the language of art.