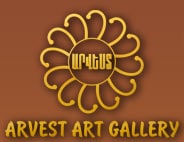 Every Monday Arvest Art Gallery master-class takes place.
75/78 Bogenbay Batira Street
(corner Kaldayakov)
Almaty, Kazakhstan

Phone: + 7 727 291 47 97
Mobile: + 7 701 799 94 09

Artists Alpysbai Kazgulov
Alpysbai Kazgulov was born in 1958 in Aralsk of Kyzylorda oblast. In 1980, he graduated from the artistic-graphic faculty of the Kazakh Pedagogical Institute, by the name of Abai, in Almaty Since 1978; he has been participating in the republican and international art exhibitions. Repeatedly he participated in the symposiums of young artists. In 1990, he worked at the Creativity House of the USSR, Union of Artists in Senezh, near Moscow. He has been a member of the Kazakhstan Union of Artists since 2000. Now He lives and works in Almaty.
For already two decades the people of Kazakhstan are familiar with the creative art of A. Kazgulov. The painter, who was born and grew up at the coast of the Aral Sea, could not be indifferent to the problem of the century-dying sea. Aral is the eternal epos. The canvases of Kazgulov warn that the consciousness of the contemporaries will not become like the drying Aral. His works are similar to the steppe mirages. In them are the memoirs of the past and the dreams of the future. The artist's cult ritual is the worship to the great road of Turkic. From here start his endless caravans, the eternal movement, and the eternal return back to place. "The artist's roads are short in general if not to extend it by the constant search" - a rule which the painter trusts.
Alpysbai Kazgulov paints his pictures in the stylistics of abstractionism and surrealism. "Cataclysm, excess, shock or an unprecedented event are the subjects on which the drama of each of my canvases was built. If I deceive a viewer's sight, it is as much deceptive as the reality..."