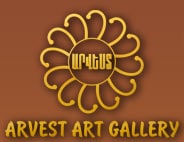 Every Monday Arvest Art Gallery master-class takes place.
75/78 Bogenbay Batira Street
(corner Kaldayakov)
Almaty, Kazakhstan

Phone: + 7 727 291 47 97
Mobile: + 7 701 799 94 09

Artists Tamara Volkova
Volkova Tamara
Was Born in 1946. Graduated the Moscow Architecture institute. Has been working as an architecture for 20 years. Birth of second daughter and immediately the Soviet Union breakdown has stopped career of architecure. Amateurishly, fond of painting for whole life. Now, fond of it prfessionally.
Preofessional activity and exhibition:
1972 – Personal exhibition painting works in Yaroslavl city
1972-1982 – participation in architectural and painting exhibitions in Yaroslavl city;
1980 – 1 place in the zone inspection of creation work of young architectures. (there were works from 12 oblasts of non-chernozem zones of Russia)
1981 – regional exhibition – show of architecture's creation work (architecture, painting);
1981 – prize winner of Soviet Ministry of USSR in membership of architectures of CNIIEP Grado, Moscow city
1982-1988 – participation in several exhibitions in membership of architectures of Kazakhstan, Almaty city;
2005 – personal exhibition in "Vernisazh" gallery;
2006 – pesonal exhibition in "Voyager" gallery;
2007 – Exhibition in membership of "Samotsvety" association in museum after Kasteev
2005-2007 – participation in "Siren" exhibition, "religious motifs in painting and graphic of Almaty painters ", Photo exhibition (Direction of art exhibitions).
Built according to Tamara Volkova's project:
Office building in Yaroslavl city;
Hotel with restaurant in Pereyaslavl Zalessk town;
Reconstruction of housing building in Ok-zhetpes sanatorium.
Projects:
History-architectural main plan of Almaty city;
History-architectutral main plan of Oskemen
Work in different styles and techniques: oil, pastel, tempera, gouache; fresco, collage. Technique of own icon, as I named "terraplast". This technique allows to "locate" the petroglyphs to its natural sphere, to stone, to transfer feeling of infinity.
The paintings have galleries and private collections of Kazakhstan, Russia, Germany, Austria, USA, Great Britain, France, Spain, Denmark, Holland, Italy, China, Turkey, South Korea, United Arab Emirates and etc.